What dictates where you fly to? Do you find the aircraft type operated determines whether you book that particular destination? Read on to discover why aircraft type matter to me.
​
I was flying home from Zurich, Switzerland in May '15, after a flight from Singapore on an Airbus 340 where I boarded an older looking aircraft that was looking considerably dated from the A340 I had just landed on.
The Aircraft was a Fokker 100. A single aisle narrow-bodied aircraft with a seating configuration of 2-2. The engines on this baby were not attached to the wing but attached the the rear fuselage near the tail.
I walked inside the Fokker 100 and it was certainly very dated, although the airline had clearly tried to "update" the interior. There were no TV screens in the rear of the seat in front, nor, single TV screens in the ceiling.
Each arm rest had a small silver patch of metal were an ashtray once resided, in those days airlines were able to provide smoking. After the comfort and personal TV screens of a wide-bodied aircraft for the past 14 hours this was lacking the comfort the A340 offered….. "This aircraft has to be older than I am", I thought.
---
The Importance of Aircraft Size
I spent most of my early working life in aviation, both on the Ground and as a member of Cabin Crew, therefore, I do feel I am suitably qualified to write about such a topic.
Now I am sure you want to ask the question: "what is the difference between a wide-bodied and narrow-bodied aircraft?"
In laymans terms, a wide-bodied aircraft is one with two aisles. Wide-bodied aircraft, for Boeing, include the 767, 747 Jumbo, 777 and the 787 Dreamliner.
Airbus delivers the A330, A340, A350 and A380 (twin-deck) aircraft. Wide-bodied aircraft also tend to have longer flying ranges, that is why you will typically see them deployed on Trans-Oceanic or Trans-Continental segments.
Wide-bodied aircraft are advantageous to both airlines and passengers. They allow airlines to pack more passengers into each plane.
None of this is to say that narrow-bodied (single aisle) aircraft like the Boeing 737 and Airbus 321 are necessarily bad, although flying across The Atlantic Ocean in one of them can be a claustrophobic experience. Most narrow-bodied aircraft are deployed with short flight times, and, tend to be more of a shuttle service.
---
TRIVIA: Did You Know?
Each B777 engine is larger in diameter than the cabin of a B737 by more than half a foot! With a 13 foot diameter, you could fit 6 seats across the inside of a B777 engine.
---
REGIONAL AIRCRAFT:   made by manufacturers like Embraer and Bombardiers Canadair division. These planes are so tiny they often seat only 3-4 passengers in each row.  The Dash 8 (propeller) aircraft is used as a domestic carrier within The UK.
As a general rule (and yes we know this is not always the case), the larger the aircraft, the better service and food you can expect. Regional and narrow-bodied aircraft have small service galleys, that limits both the quality and quantity of food that can be brought on board, and additionally the number of crew members. There are more flight attendants on larger aircraft, and, depending on the length of the flight, more options for food, more scheduled food and beverage service.
Larger aircraft, obviously, have more room for stowing baggage. The Regional aircraft (Dash 8) suffer from reduced locker space.
---
Question: Boeing or Airbus?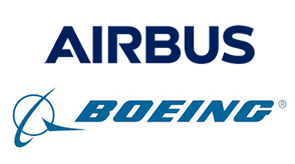 Boeing is an American manufacturer of aircraft and is solely produced in the USA. Airbus is European manufactured with various Countries contributing various 'parts' of the aircraft which is assembled in France.
Although the media fabricates much of the 'Battle' between Boeing and Airbus, this is probably the aspect of aircraft disambiguation that makes the smallest amount of different to the average passenger. I do have a preference, however, and yes it maybe a little biased but I am very much an Airbus fan. Possibly due to the fact I am from The UK and Airbus wings are manufactured near my hometown in Cheshire.
---
SHOULD I ALLOW AIRCRAFT TYPE TO INFLUENCE MY FLYING PLANS?
… Absolutely!!
The first thing I do once I have found a great flight is to research what aircraft type I will be flying. I have been known to fly a few hours longer to catch the better aircraft. I always try to experience all types of aircraft and airline carriers.
In short – it is all about you and whether you feel aircraft type makes a difference.