Prague is a destination that always seems to be in "trend". It has been on the tourist trail for a long time, and the crowds show no signs of abating. Prague is a gorgeous, well preserved medieval city married with a rich history, expansive parks, trendy nightlife, with a dash of romance.
​
Prague is the Capital of The Czech Republic; Also known of late as "Czechia" became the Capital after Czechoslovakia split into two countries in 1993. The Czech Republic, nestled in the centre of Europe, is a country steeped in history. It is a land dotted with castles, medieval towns, beautiful mountains, ancient ruins, and apparently, the worlds best beer. The country sees increasingly more tourists each year but the vast majority stick to Prague.
---
SOME USEFUL INFORMATION
ℹ️ Travel: Flying from The UK takes anywhere between 2 hours to 2 hours 30 mins depending on where in The UK you are flying from. The airport is approximately 10 miles from Prague. Sadly, there is no rail link from the airport so it is either taxi, airport express shuttle or public transport. The Airport Express coach costs GB£2.50 (US$3.50) and takes 40 minutes. Prague Airport buses (N119, 100 and 179) will take you not to the city centre itself, but only to one of the metro lines – green or yellow, where you will need to change. This costs GB£1 (US$1.40). The most comfortable, however, the most expensive method of transfer is to use a taxi. This will cost around GB£24.50 (US$34.60).
ℹ️ Currency: The Czech Koruna (Kč). The Czech Republic joined the European Union in 2004.​
ℹ️ Credit Cards and Banks: ATMs are common place in almost every shopping street, with several 'bureau de change' around the city centre, with almost every retailer accepting Mastercard and Visa. There is no fear of an establishment declining card payments. ​
ℹ️ Weather: As with all Central European countries the Winter months are dark, cold and wet. The better time to visit is during the Summer months when temperatures can exceed into the mid 30c's.
ℹ️ Accommodation: I stayed at a 4* hotel called K+K Hotel Fenix on Ve Smeckach 30 Street. The location is great near heart of the city and the shopping areas. The hotel also offers a light breakfast in its rate. The metro is 1000 feet from the hotel.
---
WHAT CAN PRAGUE OFFER?
---
PRAGUE CASTLE
This has to be the most popular attraction in the city. Looming above the Vltava river, its serried ranks of spires, towers and palaces dominate the city centre. Within its walls lies a varied and fascinating collection of historic buildings, museums and galleries that are home to some of the Czech Republic's greatest artistic and cultural treasures.
​
Whilst walking around the ground is free having admission inside the castle will cost around GB£12 (US$16.70). There are three types of admission ticket depending on what you prefer to see. Check out this link for admission prices.
---
CHARLES BRIDGE
Strolling across Charles Bridge has to be one of my favourite pass times in the city! Charles bridge is a 1640ft (500m) long playground brimmed with buskers, artists and street entertainers, and snack stalls. The bridge is lined with statues gazing down at you.
---
OLD TOWN SQUARE AND WENCESLAS SQUARE
These two squares within easy walking distance from one another are the beating heart's of the city. It is where all the action happens throughout the day and into the nights.
Old Town Square is one of Europe's biggest and most beautiful urban spaces and has been Prague's principal public square since the 10th Century, and was its main marketplace until the beginning of the 20th Century. These days its biggest crowd pleaser is the medieval Astronomical clock tower.
​
Wenceslas Square is aimed more at the tourists with street entertainers, trendy cafes and bars, with great nightlife. Either way both Squares are a hive of busking jazz bands and alfresco concerts, political meetings and fashion shows, plus Christmas and Easter markets.
---
ASTRONOMICAL CLOCK
If you consider yourself as a bit of a horologist, like myself, then this attraction will play big on your list of attractions to see. Located at the Old Town Hall in the Old Town Square this is a beautiful feat of medieval engineering.
Every hour, hundreds of tourists from all over the world with cameras at the ready gather in front of the Old Town Hall to enjoy a fascinating mechanical performance, that in the Middle Ages, was considered one of the wonders of the world.
The Prague Astronomical Clock, which for 600 years has been one of the greatest treasures of the city, amazes people to this day with its procession of moving statues and visualisation of time. Best of all this is all free!
---
ST VITUS CATHERDRAL
Built over a time span of almost 600 years, St Vitus is one of the most richly endowed cathedrals in central Europe. It is pivotal to the religious and cultural life of the Czech Republic, housing treasures that range from the 14th Century mosaic of the Last Judgement and the tombs of St Wenceslas and Charles IV, to the baroque silver tomb of St John of Nepomuck, the ornate Chapel of St Wenceslas, and new art stained glass by Alfons Mucha.
​
To wonder around the cathedral is free of charge, however, to enter a donation is required.
---
PILSNER BEER FACTORY
You have guessed it – apparently the best beer in the world is brewed here. Pilsen, a town about 50 miles away, is the birthplace of the Pilsner and the home of the original Pilsner Czech beer. Heading here makes a great day trip from Prague via bus or train. The local train takes roughly 1 hour 50 mins, and, costs around 174 CZK (GB£6.00 / US$8.30). For other modes of transport click here.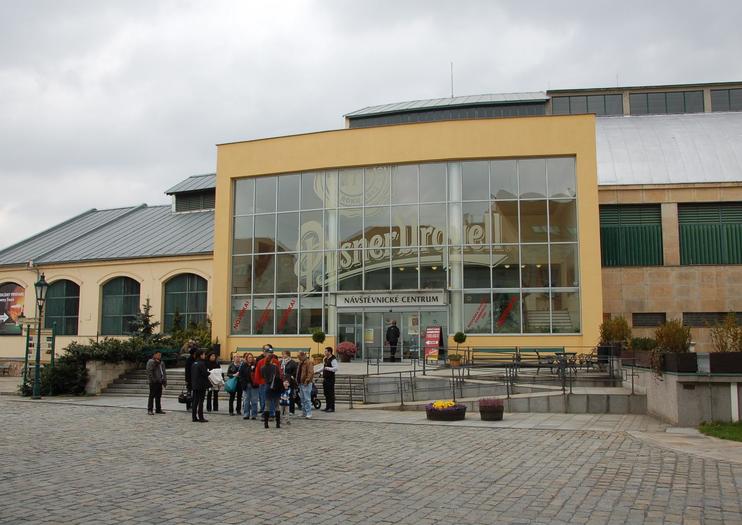 During your visit, make sure to not only tour the Pilsner factory but also check out the beer spas where you soak in a tub of beer. The factory tour will cost around 250CZK (GB£8.50 / US$11.80) . Expect to pay around 800 CZK (GB£27.50 / US$38.30) for a soak in the beer tub. Click this link for more details.
---
PRAGUE TRAM NETWORK
Prague's city centre is compact, so once you have dropped your bags at your hotel it is simple to travel around on foot. However, hopping onto a tram is just a little bit of fun, and, Prague trams are beautiful as they wind their way around the cobbled streets.
A single ticket for the public transportation network permits you to travel on all metros, trams and buses for a set period of time. Plus it allows you to switch between the three transport modes. There are 1 Day, 3 Day and 1 Month passes. Purchase tickets from metro stations, newsagents and Public Transport Information Centres, and from orange/yellow ticket machines located at major tram and bus stops, and inside newer trams. A 1 day tram pass will cost roughly 110CZK (GB£3.80 / US$5.30) and a 3 day pass will set you back around 310CZK (GB£10.65 / US$14.85).
---
THE DANCING HOUSE
The Dancing House has to be one of the most striking modern day buildings in Prague, located by the Vltava River. It's design is unique, and especially striking in the city centre because it is a modern building surrounded by historic architecture. At the top of the building will find 'Ginger and Fred' restaurant. A little on the expensive side so maybe a couple of snaps from the outside is enough.
If you have not been to Prague before then ensure it is on your 'bucket list' of cities to visit in Europe. It is breathtakingly beautiful that has not lost any of its charm over the years. Its a city to relax and become lost in a world of fairy tales.