Nice (pronounced 'neece') is located in the French Riviera, on the South East coast of France on the Mediterranean Sea.
​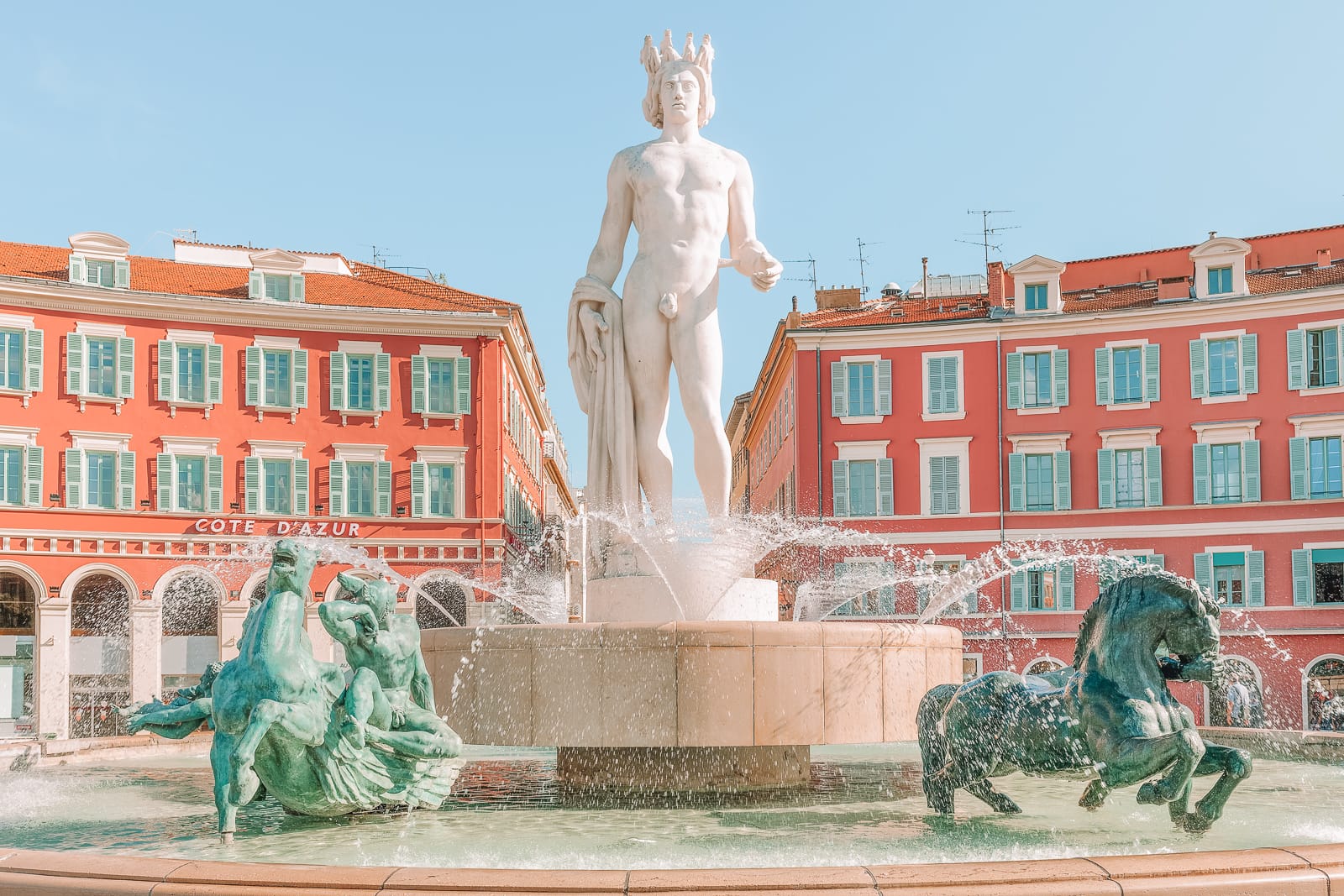 Nice has a very cosmopolitan Riviera vibe, and you will enjoy exploring its fashionable boutiques and restaurants and sunning yourself on its beaches. However, do not expect a sandy beach. The beach here, to my surprise, has pebbles. Studded with cafes, bars, and eateries, suffused with antique and flower markets, and bearing some remarkable feats of art and architecture. Walk up to Castle Hill for a beautiful view of the city, the Bay of Angels, and be dazzled by the bright blue water that gave the Cote d'Azur its name.
SOME USEFUL INFORMATION
ℹ️ Travel: Nice is served by its local airport Nice Cote D'Azur International or by rail. The airport is roughly 5 miles (8 kms) from Nice. Flights from The UK are approximately 2 hours 15mins.
Buses from Nice Airport to the city centre leave every half hour. Easy and convenient, take route 98 to Nice Riquier, or route 99 to Gare Nice Ville.​
ℹ️ Currency: The Euro (€). France is a member of the EU (European Union)​
ℹ️ Credit Cards and Banks: ATMs are common place in almost every shopping street, with several 'bureau de change' around the town, with almost every major retailer accepting Mastercard and Visa. ​
ℹ️ Weather: Summers are warm, sunny and dry, with temperatures mostly in the mid/late 20 °C during the day. Nights are generally warm. Winters are relatively mild that is typical of Mediterranean locations.
ℹ️ Accommodation: I stayed at the 4* Best Western Plus Hotel Brice Garden. Location was pretty good on Rue Du Marechal-Joffre. Prices were around £110 p/n and included breakfast.
---
WHAT CAN NICE OFFER?
---
I was to spend 3 days in Nice and the Cote D'Azur region and wanted to sample some of the local cuisines an historic venues. My aim here was also to visit Cannes a little further down the coast.
Now all the sight seeing did not take a full day. Most of the sights were done in half a day with time to relax on the beach afterwards or drink wine in the many cafe-bars along the promenade.
---
THE OLD TOWN
The tapered streets of Old Town, buzzing with energy, form a hub in Nice. It is an eclectic maze of shops and restaurants, bars and cafes. Charcuteries and fishmongers rub shoulders with pastry windows and cheese shops, while boutiques stock unique fashions, accessories, and gifts.
Make time to window shop, people watch, and grab a bite to eat. This rustic hodgepodge is must see territory, enjoyed by tourists and locals alike, and a good spot by which to navigate many of Nice's other sites.
---
MARCHE AUX FLEURS COURS SALEYA
Cours Saleya features many of Old Town's best shops and outdoor stalls. During market days, it erupts into life with people buying and selling bouquets of flowers, ripe fruit, and local vegetables.
The restaurants and cafes in the area are packed and popular, with stiff cups of espresso and fresh seafood catches on offer. It is a great place to stop for a warm pick-me-up or a cool drink and get energised for your day, to the tune of hawkers and smell of the sea air.
---
PROMENADE DES ANGLAIS
is one of the city's best strolling spots, and is possibly one of my favourite areas of the region. You can amble your way here from Cours Saleya, one of many starting points, as the Promenade intersects with much of Nice, making it either a convenient detour or a lovely way to get to your next destination.
With the seafront in the distance, dotted with white canopies, this scenic route offers lanes for you to cycle, jog, roller blade; or simply take your time, have a drink, and even grab a spot of street-side ice cream.
---
PLACE MASSENA
used to be the spot of choice for the rich and noble in Nice. The square still attests to this sumptuous past, with arched buildings, checked walkways, playful fountains, and ornate statues.
The streets surrounding the beautiful Place Massena are where you will find a lot of Nice's cafe culture, some great photo opportunities, with a generally upbeat vibe. Although really not necessary, from here you can hop onto the tram and ride from one end of the town to the other.
---
MONUMENT AUX MORTS
is a stunning tribute to France's soldiers. Massive and visually arresting, it houses the dog tags of France's 20th Century war casualties in a stunning remembrance of their sacrifice. Located overlooking Nice's harbour and the sea, and well-lit by night, the memorial is set into stone, very close to Castle Hill, and well worth visiting.
---
CASTLE HILL
Beside Monument aux Morts, Castle Hill boasts impressive views of Nice's azure harbour and the ochre rooftops of the city itself. Wonderful for a small hike, a picnic, or even a coffee at the hilltop cafe, Castle Hill is suitable for any type of visitor, boasting a children's play area, as well as a lift, for ease of ascending/descending the hill.
---
THE ANCIEN HOTEL REGINA
which is now home to some of Nice's most attractive apartments, was once a hotel. Created specifically for the use of the English Queen Victoria, the Regina is still worth visiting to marvel at the architecture that so quickly went up to celebrate the Queen's visits in the late 1800s.
Located on Cimiez Hill the Regina also happens to have been home to Matisse himself. This 19th Century masterpiece is one of the most magnificent buildings in the city.