Liverpool (founded in 1207) is a coastal city with an interesting past. This city was made from shipping and was one of the largest shipping ports in The UK bringing goods in from all over the British Empire. At the city's height 50% of the world's trade passed through Liverpool's docks, contributing to Liverpool's rise as a major city.
After the invention of road and rail services and the decline in shipping Liverpool became a run down city clinging onto it maritime past. However, with major investment over the past 20 years or so this city has come back from the brink and reinvented itself as an eclectic modern city….with a proud history on display wherever you look.
Liverpool is now a city full of art and music. It's home to the Philharmonic Orchestra and is the birthplace of The Beatles. It offers many free museums, parks, and inexpensive restaurants. During August, go to the Matthew Street Festival to enjoy one of the biggest music events in Europe. Most people come here for either the football or the Beatles, but there is much more to the city than that. You can feel the energy in here. Its a city now worthy of a visit.
---
SOME USEFUL INFORMATION
ℹ️ Travel: Liverpool is served by its own airport, however, Liverpool airport is more of a regional one. Most visitors fly into neighbouring Manchester airport. Transferring to Liverpool is extremely easy where train services leave Liverpool airport frequently towards the city. If you are arriving into Manchester airport then head to its rail terminal and board a train for Liverpool Lime Street (city centre). ​
Remember Liverpool is a coastal city were services from sea are also available. ​
ℹ️ Currency: The British Pound (£). From 31st October 2019 The UK will no longer be a member of the EU (European Union)​
ℹ️ Credit Cards and Banks: ATMs are common place in almost every shopping street. Every retailer accepts Visa, Mastercard and American Express.​
ℹ️ Accommodation: When it comes to accommodation to be fair I only live an hours drive away from Liverpool so the likelihood of hoteling is slim. Nonetheless, if I were to hotel then here are two recommendations. The 4* Best Western Richmond Hotel is in a superb location for the city. Like all cities skip the breakfast add-on. There are plenty of places to grab food. Prices are roughly £65 p/n. If you're after something really special then stay at the 4* Titanic Hotel. This is a very stylish venue although prices start roughly £130 p/n but does include breakfast.
ℹ️ Weather: The climate is generally mild, with temperatures rarely climbing uncomfortably high or low, although it is worth carrying an umbrella or raincoat throughout the year.​
Cold season: From December to February, temperatures are usually a few degrees above freezing.​
Warm season: Between June and August, the Summer temperatures are still comfortable with temperatures floating around the Mid 20c's.
---
WHAT CAN LIVERPOOL OFFER?
---
THE ALBERT DOCK
This is considered one of Liverpool's biggest tourist attractions. It is a ring of enormous cast-iron columns surrounding a five story warehouse. It is the country's largest collection of protected buildings and is considered a world heritage site.
There are several museums to check out as well as bars, restaurants, cocktail bars and an extension of London's Tate Gallery. Up until recently the ITV TV studios were also located here before moving to Manchester several years ago.
​The dock was first opened in 1846. The Albert Dock remained a fully working dock until closing in the 1970's. It lay derelict for many years after this, until undergoing a huge restoration and regeneration programme in the 1980's. The Albert Dock has now been turned into Luxury apartments.
---
LIVERPOOL ONE AREA
Shopping, Restaurants and Entertainment by the Waterfront. Whether you want to hit the shops for some of the best shopping in Liverpool, eat delicious food in one of the 5* restaurants, or treat yourself to a cocktail in one of the lively bars, you will always have a fun packed day at Liverpool ONE. With shopping, restaurants and entertainment close to the iconic Liverpool waterfront, take a look around this vibrant and super-stylish part of the city.
​
Liverpool ONE is also home to some of the most expensive hotel chains in the city with Hilton, Marriott and Radisson based overlooking the Docks and Waterfront.
---
MATTHEW STREET FESTIVAL
Every August, Liverpool puts on one of the biggest music festivals in the world. Bands from all over England come to perform and it's quite the scene.
If you're into music and love festivals, this is a must. Nonetheless, that is not to say outside of this month nothing happens. Matthew Street is where you hang out for some post-work drinks and a livelier Saturday night out.
---
MERSEYSIDE INTERNATIONAL STREET FESTIVAL
Every year in the middle of July, Liverpool is host to a three-week extravaganza of music and art.
This event highlights cultures from all over the world and there are tons of indoor and outdoor performances.
---
LIVERPOOL ANGLICAN CATHEDRAL
Liverpool Cathedral is one of the finest examples in the world of Gothic revival architecture. On a clear day, the tower affords breathtaking views of Liverpool, Merseyside, and beyond.
I have fond memories of this cathedral from my school days arriving in bus loads with our teachers learning about the architecture and Christianity.
---
THE BEATLES STORY
This is the only museum that is totally Beatles themed, and well worth the visit to learn and see a part of music history. It includes some of their instruments as well as stack loads of interesting facts. Admission is GB£15.
---
THE LIVERPOOL WHEEL
Synonymous with pretty much every major city skyline these days; is the Liverpool Wheel. Located near the Albert Dock opposite the Concert and Convention Centre. Tickets for this ride that offers great views of the Waterfront costs GB£9.
---
ST GEORGES HALL AND WORLD MUSEUM
The World Museum is located near to St. George's Hall and contains a vast assortment of British rocketry exhibits as well as one of the best Egypt exhibits around. Like all the museums in Liverpool, it is free to enter.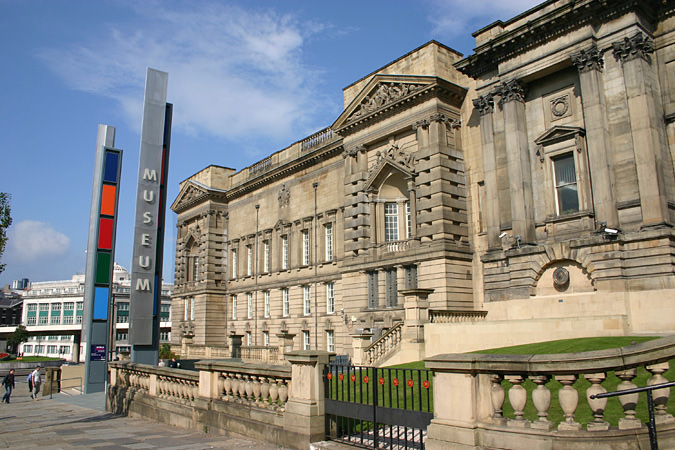 St Georges Hall is a very handsome building that offers exhibitions, concerts and entertainment. Be sure to check the notice board when you visit for the latest "Whats on..".
---
THEATRE SHOWS
If you have enough time to fit a show into your itinerary then why not check out Liverpool's numerous Theatres. The main theatre 'Liverpool Empire' offers some of the World renowned hit musicals that go on tour.
---
THE ROYAL LIVER BUILDING
This has to be one of the most iconic buildings in the city and dominates the Waterfront. Built in 1911 to accommodate the ever growing insurance market that had set up in the city in the Mid 1800's. The Royal Liver building until recently was the tallest building in Europe, but that was soon taken by London.
​
At the top of the two towers are the 'Liver Birds' that face out to sea. The Liver Bird is the symbol of the city and legend reads if the Liver Birds were to fall down then the city of Liverpool will crumble.
---
CASTLE STREET
Finally, Make your way to Castle Street. This is the Financial district of Liverpool and is formed on the former 12th Century foundations of Liverpool Castle.
This area is not only the financial hub of the city but the street and those streets off it are lined with restaurants, trendy bars and cafe's.
---
No matter what you do in Liverpool or how long you visit there never really is enough time to do everything thoroughly. This city has so much to offer. It makes me smile to see the city has bounced back from the brink of depression to a modern city with a great new modern vibe. Yes, the city was one of the largest in the world for shipping but these days the city is big on forward planning.