"WELCOME TO SIN CITY, BABY!"
…..exclaimed an American woman from several rows behind me on my flight to this city.  Usually hearing something like this would raise an element of doubt in my mind: a kind of  'what am I doing here?'  thought, but not this time.  Excited was an understatement.  I was about to sprinkle like an excited Puppy.
So Las Vegas:  I can literally say I think I spent the entire five night stay walking around with my mouth open and giving my ears and eyes a major stint of overtime!   It's one of the few places I have explored were I have been exhausted at the end of the day, but in a contradictory 'not tired' way.    
Where else on this planet can you spot an Elvis look-alike sauntering along the pavement arm-in-arm with a flamboyant showgirl.  A Bride in a white dress shrieking  'Blackjack!' ,  whilst a purple-haired Grandma feeds slot machines with Quarters (25 cents)  while tossing back a Gin and Tonic….. And its 3am!  
Las Vegas is a surreal place.  After a long flight from The UK (landed lunchtime Vegas time) and having satisfied myself with late lunch I had a giggling thought.  Where do I start this trip??   This was my second visit to this city and this was the only place were you can spend the night partying in Rome, wake up in Egypt and have  lunch under the Eiffel Tower in Paris;  watch an erupting volcano at sunset or watch Pirates battle it out in the Caribbean. 
In addition, finding time to browse tacky souvenir shops (which I adore), sip on a neon 3ft high margarita or a frozen vodka martini from a bar made of ice!   One thing you will soon notice in Las Vegas the Casinos are not dressed with clocks – time is irrelevant here. Each casino offers never ending food, drinks and adrenaline fuelled tables and slot machines.
One thing I can say regarding Vegas. You will become your alter-ego self here!
---
SOME LAS VEGAS BASICS

ℹ️ Budget hotels – There are plenty of budget hotels and casinos located on the strip and slightly further afield with prices starting from around GB£32 (US$40) per night, or closer to GB£40 (US$50) on the strip. Many of the nicer strip hotels start at around GB£75 (US$100) per night with more luxurious hotels like the Bellagio, Venetian, or Aria starting at GB£115 (US$150) or more per night. However, casinos offer tons of cheap room rates to get you into their casinos. There is always a deal being offered online so be sure to check before you book.​

ℹ️ Average cost of food – Most hotels and casinos have a buffet where you will pay GB£7.50-£15.50 (US$10-20) per session. Outside the casinos, a meal at a sit-down restaurant will be around GB£20 (US$25). If you are eating in the casinos, you are looking at spending at GB£40 (US$50) per person with one glass of wine. Towards the middle of the strip near Ballys there are a number of cheap chain restaurants like Chipotle, McDonalds, and Subway where you can find cheap eats. If you want to save money, get off the strip!
​
ℹ️ Transportation costs – The Monorail is GB£9 (US$12) for a one day pass but there are also a few free routes depending on your destinations. A ticket for the 24 hour Deuce bus is GB£6.50 (US$8) and the Las Vegas Strip Trolley is GB£1.80 (US$2.50). Otherwise, taxis are your best option and will cost around GB£7.50 (US$10) per trip (around the strip. If you are going further, prices go up).​

ℹ️ Skip the weekend – Most people visit Las Vegas on a Friday or Saturday and stay for the weekend which means this is the most expensive time to visit. By visiting the city during the week you can avail of the significantly reduced room rates and restaurant prices.

ℹ️ Use coupons – Coupons are almost a currency in Las Vegas; casinos will give you a book of them when you sign up for a (free) player's card and you will find 2-for-1 offers on meals in restaurants on the strip.
---
CASINOS OF THE LAS VEGAS STRIP
One thing you will be sure of while in Las Vegas is the certainty you will not spend all your time there in the Casino of the hotel you are staying in……you will be spending time in all the casinos along the Strip.  The hotel casinos range from your budget right up to the luxury, with each casino offering a different experience.  I have highlighted some of my favourite places…..
---
THE LUXOR
Although for me the exterior of the Luxor Hotel is impressive I was very disappointed with the internal decor.  The rooms really need modernising. The carpets look very worn and in need of replacing and the service is not terribly great in comparison to other casino hotels on The Strip.   I spent the first afternoon of my stay dining and having drinks in the casino.  
The casino floor is quite large and the minimum bets reasonable, but while there are a couple of decent restaurants in the hotel, I probably would only visit this hotel to take photographs of the exterior. An additional consideration the hotel is located at the south end of the Strip, it is a bit far from everything and not worth the walk.
---
CAESARS PALACE
I have to admit I expected more from this place.  Maybe because there is a lot of literature out there that illustrates the hotel and it is fairly heavily promoted, I always envisaged this place as classy and high-end. Despite that, Caesars Palace was good— not amazing but good.   I feel the construction of more High-End hotel Casinos is meaning Caesars Palace needs to 'up their game' to compete. 
The casino itself is large, and you can tell there is a strong emphasis on gaming here.  It has lower stakes than other nearby casinos, making it a better place to gamble on a budget.  Caesars also has some of the best big-name shows in Las Vegas, so it's one of the best places to catch a show on the Strip.   During my stay I was fortunate enough (although some may disagree) I managed to bag a ticket for Cher.
---
THE BELLAGIO
A classy, classy joint indeed. In fact, it is probably too classy for me! They have piano players, fancy restaurants, the most famous poker room in Vegas, a huge and opulent casino, and a very high-end shopping area (think designer).
The buffet at Bellagio is one of the better buffets on the Strip, and if you like Sushi make time for the 'Yellow Tail' restaurant.  I really like the Bellagio, and that fountain shows are every bit as awesome as you see in films! The shows perform every 15 minutes.  Ensure you arrive early, as a crowd builds a few minutes before each show.  Even if you are not staying here, Bellagio is one of the better casinos to spend time in.
---
MANDALAY BAY
I like this place a lot. They have a great pool area and a lazy river where you can just sit, float, and relax – I was not even resident here.   The hotel additionally resides a huge casino with a large floor, very pleasant decor, and reasonable minimum bets. There is a wide variety of tasty restaurants, including an excellent wine bar and sushi restaurant. 
---
MGM GRAND
This place seemed more family-oriented than the other places I visited. I did enjoy the bars, and the casino floor had a lot of table games. MGM also has a lot more shows, events, and concerts than many of the other casinos on the Strip. Its grandeur is a proud Lion protecting the entrance to the hotel.
---
THE HARD ROCK
I have to admit I am not a massive fan of the Hard Rock brand in general and tend to avoid it no matter where I am visiting.   I found there were a lot of drunk young people around, and it is way off the Strip. They have a big pool party on Sunday called "Rehab," but its total focus is getting drunk.
---
MONTE CAROL
The mention of it name, for me, congers up images of Monaco and South of France, nonetheless, I was not impressed with its mediocre restaurants and shopping venues. It seemed like it had its heyday years ago.
Their casino is big, but their buffet is just average. It is cheaper than most other buffets and the selection is large, but the food is nothing special. Admittedly the resort is very affordable and for this reason I would stay here. 
---
NEW YORK, NEW YORK
I really like New York, New York.  It's busy and crowded, just like New York City, and it has a nice interior that is designed to look like the 'Big Apple'. The casino floor is a bit small, but there are many New York-themed restaurants and bars.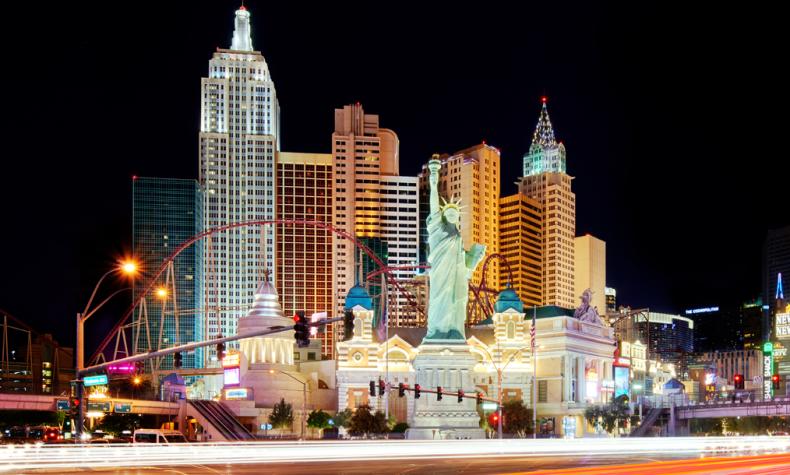 At weekends, this place is packed with people eating cheap food and drinking at the cheap bars. During the nighttime, you will hear people screaming as they take the famous NY, NY roller coaster around the casino. New York, New York also has the best Cirque du Soleil show I have seen, although maybe too much audience participation.
---
ARIA
I love everything about Aria. I love the high-tech rooms, outdoor club, tasty restaurants and the overall modern look and feel.  But my favourite thing? The smell of the place. The whole place is vanilla-scented.  It is by far the nicest smelling place on the Strip.  At weekends, 'Haze' ( Aria's nightclub), is packed with people, and the resort takes on a much more energetic vibe.​
I was fortunate enough to see my American friends renew their wedding vows at the Wedding Chapel and our party was at Haze afterwards. Lets just say it was daylight when I left!!
---
THE VENETIAN
Another expensive and high-end casino, this old-school casino is both opulent and beautiful.  There is a large shopping mall,  gondola rides around the "canals," and amazing, delicious, high-end restaurants that serve some of the best food in Vegas. The famous nightclub 'Tao'  can also be found here (…guilty!)
I love The Venetian.  It's beautiful.  It has a large casino floor, a poker room, phenomenal food, and great shopping.  It's opulent. You cannot possibly dislike The Venetian.  The only thing you may dislike are the prices – it's definitely not the cheapest place to stay on the Strip. The only cheap thing at The Venetian is the buffet. 
---
PARIS
"Very Indifferent". It is OK, although, it does have one of the best buffets on the Strip, the casino is large, and you will find very good French restaurants here, if that is your thing.
As France is on my doorstep it is probably wasted on me a little in comparison to non-Europeans.   The hotel has their own replica of the Eiffel Tower.  It provides sweeping views of the Las Vegas Strip, which is beautiful when lit up at night.
---
THE WYNN AND ENCORE HOTELS
I stayed for one night here to experience what it had on offer.  The selling point here is the location – just 5 minutes from the airport. Here you will find and romantic couples celebrating anniversaries and weddings all get the VIP treatment here. This is one of the most elegant casino-hotels on the Las Vegas strip, in terms of both interiors and service, and the clientele reflects that.  
The  Wynn features a large casino with a wide selection of table games, including poolside blackjack. A unique shopping experience is available at Wynn's many boutiques, including Chanel and Louis Vuitton, and signature restaurants, buffets and cafes are open for dining. The nightclub, Intrigue, offers high-energy entertainment with state-of-the-art light and sound.
---
THE STRATOSPHERE
Stratosphere is a hotel, a casino and tower located on Las Vegas Boulevard just north of the Las Vegas Strip.  The Hotels signature attraction is the 1,149 ft  Stratosphere Tower, the tallest  freestanding observation tower in the United States. 
The top of the tower has two observation decks, a revolving restaurant known as "Top of the World" and four thrill rides:
​Big Shot: at 1,081 ft is the highest thrill ride in the world.
Insanity: at 900 ft is the second highest thrill ride in the world; it dangles riders over the edge of the tower and then spins in a circular pattern at approximately forty miles per hour.
SkyJump Las Vegas: a controlled-descent, Bungee-jumping-like ride that will allow riders to plummet 855 ft attached to a high-speed descent wire.
X-Scream: at 866 ft is the third highest thrill ride in the world.
---
FREMONT STREET
---
Whilst in Vegas ensure you allow time to explore where it all started in the old town Las Vegas of Fremont Street. Enjoy live entertainment, a mesmerising LED canopy and light show, zip line tours and people watching like you have never experienced before. Lined with vintage hotels, restaurants and bars you will not tire of something to do.
The LED canopy that runs the entire block projects light shows that run every hour and last about six minutes each. However, these are not the only free shows you will see, especially after dark.  Each night, there is live entertainment scheduled for each of the three concert stages. While there is a multitude of talent like musicians, artists and contortionists.  Fremont Street, is in addition, the address for many famous casinos such as Fremont Hotel, Golden Gate Hotel and The Golden Nugget. 
---
THINGS TO DO THAT DO NOT INVOLVE A CASINO
---
Many people tell me they dislike the idea of Las Vegas or never want to go. "I don't gamble, I don't want to get drunk, it's overpriced," they say. The reasons can be numerous because Vegas is always portrayed through the glitz and glamour of the Strip. But Vegas offers more than just this stretch of hotels, casinos, and restaurants — and letting this one aspect of the city keep you away is a mistake. Las Vegas is the gateway to some beautiful spots in the surrounding State of Nevada. Like myself it was also the starting point of my Drive in a rental car towards the West Coast, and California.
---
VISIT THE GRAND CANYON
It's vast, magnificent and unarguably beautiful, the Grand Canyon is discovered in neighbouring Arizona State, and, is one of the worlds natural wonders that you simply have to see to believe.  It Stretches 277 miles, steep, rocky walls descend more than a mile to the canyons floor, where the wild Colorado River traces a course southwest.
Though it is far from Vegas, there are many companies that offer day trips and joint helicopter rides to the canyon. Due of the time involved (unless you spend a night in a cheap Motel), you do not get to spend much time at the canyon, but if you want a quick peek and know you are not going to get there another time, this is an option.
---
THE HOOVER DAM
The world famous Hoover Dam lies about an hour from Las Vegas, in the South of the Nevada State There are guided tours of the dam, a museum that includes a history of the dam and the region, and, of course, plenty of opportunities to walk across the dam and take lots of pictures. As a history buff, I thoroughly enjoyed the tour and learning about the mechanics behind constructing the dam.
Today, nearly a million people tour the Hoover Dam annually… The Hoover Dam offers two great tours:​
Powerplant Tour
Includes a 30 minute guided tour and admission to the Visitor Centre & Power plant
Adults: GB£11.50 (US $15)
Children FREE
Hoover Dam Tour
Includes a 1 hour guided tour, and admission to the Visitor Centre, Power plant & Dam Passageways
Adults: GB£23 (US $30)
NO children under the age of 8 permitted.

NOTE: this tour is NOT accessible for visitors with wheelchairs or crutches.
Tours are NOT advised for anyone who suffers from claustrophobia, or has a pacemaker. Tours are conducted in confined spaces and in a power plant with generators emitting electromagnetic fields.
---
VISIT LAKE MEAD
The lake created by the Hoover Dam features any kind of water based activity you can think of. It is a great way to relax in the sun and enjoy people kayaking on the water. You can organise a lot of activities with the help of guest services at the casino, but for cheaper prices, search online, or walk into the tour shops along the Strip.
---
FINALLY…
THE GRACELAND WEDDING CHAPEL
While I was in Las Vegas I was fortunate enough to meet with my American friends who had flown in from the East-Coast to renew their wedding vows in the Graceland Wedding Chapel.  It's the most surreal experience as you sit and witness the exchange of vows in front of an Elvis impersonator asking the Bride to not 'step on the Grooms blue suede shoes' and offering his blessing to the "hubba hubba hunk of love"….. Of course, the only way I was able to play a role in this experience was to adorn a blue 'tux' T-Shirt.
---
As a concluding note Las Vegas was everything I was apprehensive over and better. The stay was Five days and to be honest that was long enough for me. Once you have seen one casino on The Strip you have seen them all. Do make time for one of the activities above away from the glitz of neon town. ​
If you have always dismissed Las Vegas it maybe time for you to reconsider. Use the city as a stop-off destination before carrying on with your trip elsewhere, whether that be driving into California, Arizona or flying to some other city.