Krabi is an area in Southern Thailand sandwiched between Phuket to the West and Phi-Phi Islands to the South. Krabi is a popular destination for both backpackers and those looking for upmarket resorts. The powdery white beaches, palms, Andaman Sea and beautiful limestone cliffs that jut out of the sea are all draws for those looking for adventure, snorkelling and beach life.
I flew into Krabi International airport after a 4 day visit to Singapore.
---
TRANSPORT
I have to admit passing through the airport almost took an hour. There were only two immigration desks in operation and the officers lacked interest or commitment to reduce the two plane loads of passengers that had just arrived. Nonetheless, once I had passed through immigration the process of arriving to the hotel was swift.
If you haven't already arranged airport transfer with your hotel the you can always grab a taxi from outside the arrivals hall at Krabi airport. Krabi Airport is approximately 19 miles (32ks) from Ao Nang district. None of the taxis run off the metre. There is a fixed price of the fare and tickets can be bought from booths inside the terminal building. The prices are around T฿640 (GB£15/US$20) one way.
There are airport shuttle buses that are cheaper, albeit longer way to travel. Buses leave every hour. The journey is considerably longer as the buses first visit Krabi Town before heading on to Ao Nang. Tickets cost T฿127 (GB£3/US $4) one way, and can be bought from the booths inside the terminal.
---
WHAT CAN AO NANG OFFER?
The beach town of Ao Nang is located right along the coast in Krabi province and is one of the most popular coastline spots.
The beaches look straight out of the holiday brochures, with towering cliffs and green waters making up the backdrop of beaches lined with colourful long-tail boats. The town has plenty of offer – great nightlife, restaurants, street food and markets, but it also serves as one of the gateways for visiting the islands. ​
​
The area offers a good choice of restaurants and bars, masses of shopping (mostly beachwear and souvenirs), plus a wealth of dive shops, day tripping and snorkelling possibilities and other typical resort facilities. The beach is long offering plenty of space to pitch your beach towel.
Explore
If you are a beach explorer, like myself, at one end of the very long Ao Nang beach is a jagged cliff face framed by a canopy. Here you will notice a wooden set of stairs and a wooden pathway meandering over the top of the cliff. This is known as the Monkey Walkway.
Keep all your belongings tightly on your person as the pathway is also home to wild monkeys!
Navigate this path for about 10 minutes. From here the tree canopy parts and you will be rewarded by a private cove only a few explorers discover. The beach is golden warmed through by the hot Thai sun, and, the waters are clear and turquoise in colour.
---
ACCOMMODATION
In Ao Nang I stayed at a 3* Diamond Resort that was clearly out of season. Prices are roughly £55 p/n including breakfast. The resort was stunning – Thai style bungalows built into a low gradient hill each segment of the resort with its own swimming pool.
The place was so quiet. The resort was about a 10 minute walk from Ao Nang beach.
KRABI NIGHT MARKET
The most popular spot for an evening meal is this market near the Khong Kha pier. The menus are palatable and the food is authentic and excellent. Stalls here sell 'Som-Dam' (spicy green papaya salad), fried noodles, Dom yam gung (prawn and lemon grass soup), grilled snapper, huge skillets of egg-battered and fried oysters, all things satay, plus sweet, creamy Thai desserts.
STEAK HOUSE: Airy and bright, with just a half-dozen tables and one large booth. The menu includes steaks and smoked sausage, but its the wok stir fried plates that merit a mention. Think sesame beef in oyster sauce, squid with hot basil, or prawns in chilli paste.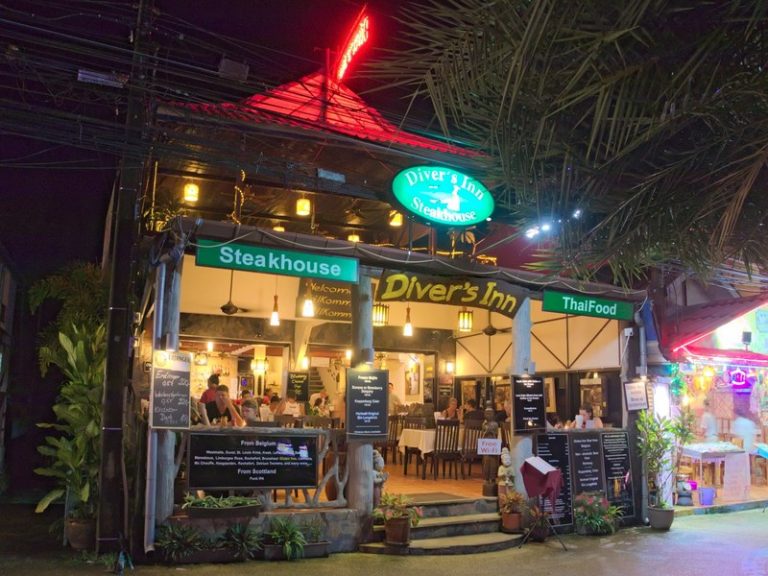 BOOGIE BAR: Located at the T-Junction on the beach is a friendly bar that offers live music and cheap cocktails. Its a great place to relax and enjoy the evenings entertainment.
​
SMILE BAR: This is my favourite place where I spent every night after a stroll along the beach after dinner. Its a great sports bar that offers great food and snacks. The owner is extremely friendly and towards the end of my weeks stay a table was always reserved for me. There are a few tv screens peppered around the bar offering mostly Australian football. At the rear of the bar is a pool table.