Copenhagen, or København in Danish, is the Capital City of Denmark
.
The city of Copenhagen is split by lakes and surrounded by sea, an upbeat waterside vibe permeates the city. Copenhagen, I found, is one of the most user friendly European cities. It offers itself over to pedestrians (and cyclists) with an emphasis on cafe culture. The city offers great museums, shops and cafe's by day, and a cracking live music, bar and club scene of an evening. The Danes are very laid back (and beautiful) people and have an air of 'Coolness' about them, especially during the Summer festival season.
Copenhagen is an ideal city to explore in a few days and offers many free sights along with those of a little more cost.
---
SOME USEFUL INFORMATION
ℹ️ Travel: Copenhagen airport is the largest airport in the Scandinavian area serving Denmark and Southern Sweden. The airport is roughly 8kms (5 miles) from the city centre and transferring to the city will only take around 20-30 minutes. The airport train or Metro service departs from terminal 3 and goes into the city. A ticket is roughly DKK38 (GB£5). There are also taxi services departing from terminals 1&3 to the city that costs DKK300 (GB£36)​
ℹ️ Currency: Although Denmark is a member of the EU (European Union) they do not use the Euro as currency.​ Denmark uses the Danish Krone (DKK)
ℹ️ Credit Cards and Banks: ATMs are common place in almost every shopping street. Every retailer accepts Visa, Mastercard and American Express.​
ℹ️ Weather: As with most Northern European Countries the best time to visit is during the Summer months between June and September. Scandinavian Winters can become very cold.
---
WHAT CAN COPENHAGEN OFFER?
---
THE NYHAVN DISTRICT
Originally, Nyhavn was a busy commercial port where ships from all over the world would dock. Today the beautiful old houses have been renovated and restaurants dominate the old port. Nyhavn is filled with people enjoying the relaxed atmosphere by the canal, jazz music and great food.
---
HANS CHRISTIAN ANDERSON  
It is possibly safe to say that Copenhagen's biggest attraction is the Hans Christian Andersen museum, where the writer was born in 1805. The museum includes a library of Andersen's work of some of his best known fairy tales. There's also intriguing displays including school reports, manuscripts, paper cuttings and drawings from his travels.
The museum has varying opening hours depending on the time of year you visit but one would look typically at opening times of 1000-1700. Click on this link to find out more about the museum.
---
THE LITTLE MERMAID
overlooking the harbour, sits the Little Mermaid.  I have to be honest considering all the hype regarding this statue I was a little underwhelmed by it.  A bronze statue of the Hans Christian Andersen character, it was sculpted by Edvard Eriksen.  
Unfortunately over the years she's been the victim of several attacks, having her head and arms chopped off and even being blown up by a bomb in 2003, but she remains the most enduring symbol of the city.
---
CHANGING OF THE GUARD
You may want to head to the Amalienborg Castle on the harbour front to watch the Changing of the Guard – or "Vagtparade" in Danish – which takes place at noon every day.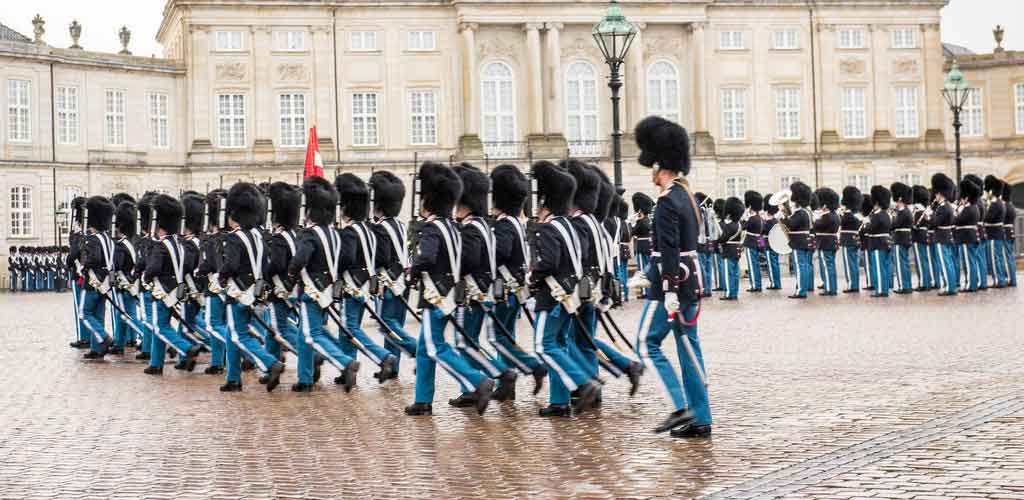 Expect to observe blue trouser-clad soldiers marching round to rousing music, bellowing orders.
---
48 HOURS IN COPENHAGEN
If your time is short in Copenhagen why not try out my tour of the city in 48 hours…
DAY ONE
In the Morning: Go for a walk around the city and discover it on foot. Start at Town Hall Square, stroll down Strøget. Weave in and out of the little side streets to find a selection of hidden cafes and other gems. You'll arrive at the city's central square, Kongens Nytorv (King's Square), where you can admire its grandest occupant: the late 19th-century Det Kongelige Teater.
Now get your camera prepared to capture Copenhagen's favourite postcard view as you walk across to Nyhavn (New Harbour). Built in 1671 to bring ships to the city centre, this picturesque canal was once a by-word for debauchery as the main red-light district.
Cultural Afternoon:
Learn more about the city's history at the København Bymuseum (City Museum), at Vesterbrogade. A interactive exhibition explores the sometimes controversial legacy of recent immigration, from Jewish exiles from Nazi-occupied Europe to more recent Iraqis and Somalis.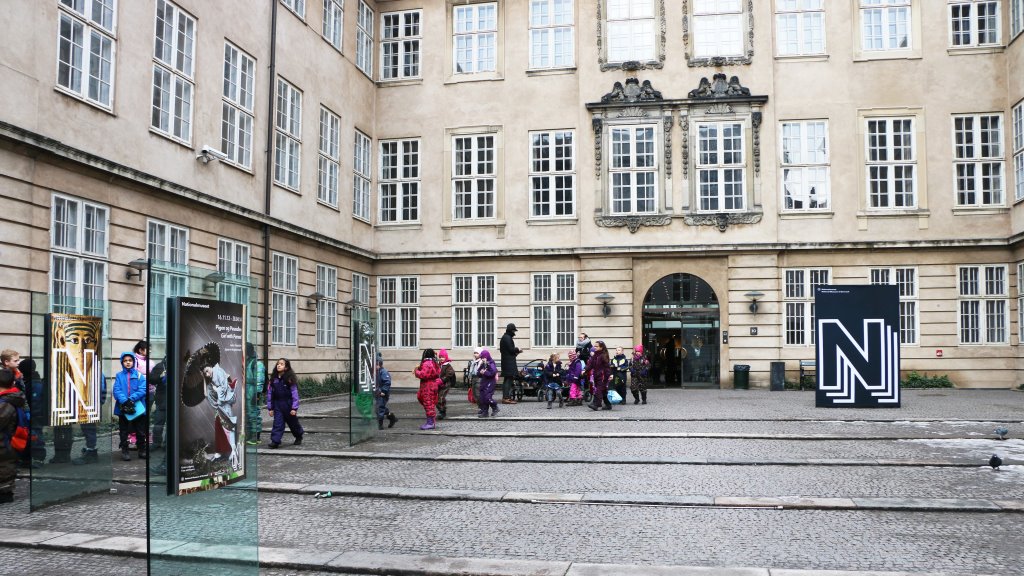 ---
DAY TWO
Morning: Have Breakfast or Lunch at O's American Breakfast & Dinner at Gothersgade. The house speciality of pancakes with bacon and endless cups of coffee.
A walk in the park – Head to Copenhagen's leafy, villa lined suburb of Fredericksberg. Its huge, pleasant park is a perfect break from the crowds and is peppered with a host of interesting sights.
The English-style gardens are criss-crossed with pathways, lakes and canals which make for a romantic stroll in the bleak winter sunshine. Then admire the grand summer palace, Fredericksberg Slot, particularly in dappled light, when its Italian style 18th Century yellow facade looks stunning.
---
SOME PLACES TO RELAX
Copenhagen is the coolest kid on the Nordic block. Edgier than Stockholm and worldlier than Oslo, the Danish capital gives Scandinavia the now over-used expression 'The X factor'. Like most of the trendy European cities there are far too many to mention but these are my favourites?
1105
Head in before 11pm for a bar seat at this cocktail lounge. It's the domain of world-renowned barman Hardeep Rehal, who made the top 10 at the 2014 Diageo World Class. While Rehal's martini is the stuff of legend, 1105's seductive libations include both classics and classics with a twist. If you are like me and like a shot of whiskey then this is for you! Whiskey connoisseurs will be equally enthralled.
---
Copenhagen Jazzhouse
is perfect for those who enjoy live music. Copenhagen's leading jazz joint serves up top Danish and visiting talent.
The doors usually open at 7pm, with concerts starting at 8pm. On Friday and Saturday, late-night concerts (from 11pm) are also offered.
---
Dyrahaven
Apparently once a working class bar (the vinyl booths and easy-wipe floors), Dyrehaven is now a second home for Vesterbro's cool, trendy, young bohemians.
Squeeze into your skinny jeans and join them for cheap drinks, simple tasty grub (the 'Kartoffelmad' egg open sandwich is a classic, made with homemade mayo and fried shallots) and some late-night camaraderie.