Bangkok offers so much for tourists it can be a headache where to start and what to prioritise doing.  Like me if your visit is only for a couple days you need to hit the sight-seeing spots hard to cram then all in.  Fortunately, Bangkok is served well by its Sky Train, MTR and tuk-tuk taxi's.  
​
If you are going to use a Tuk-Tuk take a little advice. Most work for other companies and will convince you to stop off at a suit makers or jewellers before he completes his fare. Although the fare may seem tempting walk on past the driver. He will make advances towards you but just carry on walking. I soon learnt if you walk a little farther you will find a tuk-tuk driver parked up alone at the side of the road. Barter on a price and he will make your journey that little more pleasant.
​If you are going to take a Tuk-Tuk please also remember the city's air pollution is shocking and the fumes from vehicles mixed with the hot, humid air can make breathing tight.
---
ℹ️   TRAVEL:   Bangkok is served by two international airports.  The main airport is Suvarnabhumi Airport and the low-cost terminal is Don Mueang.
​Like all airports there is always a line of taxis waiting to escort you to the hotel. The cheapest and fast route into the city is to use the Bangkok Airport Rail Link that connects downtown Bangkok with Suvarnabhumi International Airport. The City Line makes six stops between downtown Phayathai Station and the airport. The Airport Rail Link connects you to the MRT underground at Makkasan City Interchange Station and the BTS Skytrain at Phayathai Station. The fare is only 45 Baht! (GB£1.00)

ℹ️ ACCOMMODATION: I stayed at the 4* Novotel Bangkok just outside the Siam Square One Shopping Mall. I took the airport express to Chit Lom station then transferred to the Sky Train to Siam Station (only one stop).
ℹ️ CURRENCY: The Thai Baht. (BHT)
ℹ️ BANKS/CREDIT CARDS: ATMs are common place in almost every shopping street, with several 'bureau de change' around the city centre, with almost every retailer accepting Mastercard and Visa. There is no fear of an establishment declining card payments.
ℹ️ WEATHER: Bangkok is dominated by a tropical monsoon climate which means there are three main seasons: hot season from March to June, rainy season from July to October and cool season between November and February.
---
THE GRAND PALACE
Probably the most visited and remembered landmark of Thailand, The Grand Palace in Bangkok is where every visitor must pay a visit at least once in their lifetime. The construction of the Grand Palace began in 1782 during the reign of King Rama I, the founder of Chakri Dynasty, to become a royal residence, and it has been the utmost architectural symbol of Thailand ever since. The Grand Palace served as a significant royal residence until 1925 and is now used for ceremonial purposes only.
​
The Grand Palace is divided into three main zones: The Outer Court, home to royal offices, public buildings and the Temple of Emerald Buddha; the Middle Court, which is where the most important residential and state buildings are; and the Inner Court, which is exclusively reserved for the king, his queen and his consorts.
​Getting there: One of the easiest, and most pleasurable, ways is taking the BTS skytrain to Saphan Taksin station, located atop Sathorn "Central" Pier. From here, take a Chao Phraya River Express boat to Chang Pier, and then it's a short walk to the Grand Palace's main entrance.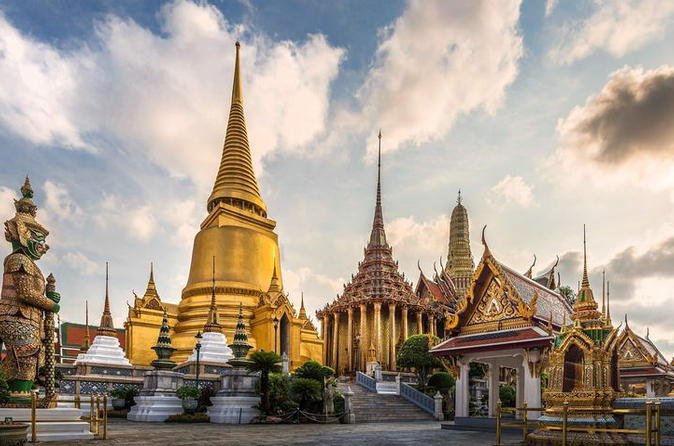 Opening hours: Open daily from 8:30am to 3:30pm except during special royal ceremonies.
Entrance fee: 500 Baht, inclusive of access to Wat Phra Kaeo, The Royal Thai Decorations & Coins Pavilion and Queen Sirikit Museum of Textile, which are located within the Grand Palace compound, and to Vimanmek Mansion Museum on Ratchawithi Road. Additional 100 Baht for a rental personal audio guide in English, French, German, Spanish, Russian, Japanese or Mandarin.
Dress code: Visitors are required to dress appropriately. These following clothes are strictly not allowed as outer garments for both ladies and gentlemen:
Shorts, mini-skirts, short skirts, tight fitting trousers, and tights
See-through shirts and blouses, as well quarter length trousers
Sleeveless shirts or vests
Sandals (without ankle or heel straps)
Rolled-up-sleeved shirts
Sweatshirts and tracksuit pants.
---
WAT PHO TEMPLE
is located behind the Temple of the Emerald Buddha and a must do for any first time visitor in Bangkok. It is one of the largest temple complexes in the city and famed for its giant reclining Buddha that measures 150 feet (46 metres) long and is covered in gold leaf.
You will need to take your shoes off to enter, and if you would like a little good luck. It really is worth taking a look around the rest of the temple. The architecture is just stunning and if you are fortunate enough you may spot the odd Monk wondering around.
Tickets to enter Wat Pho are 100 Baht. Remember as with all Buddhist temples dress appropriately.
---
WAT ARUN TEMPLE
Wat Arun, or the Temple of Dawn, is named after Aruna, the Indian God of Dawn. The temple is located majestically sitting on the Chao Phraya River opposite Wat Pho temple. The temples main feature is a central pagoda encrusted with colourful glazed porcelain tiles and seashells, Giant statues, the Ordination Hall, the Bell Tower, and many Buddha statues. Entry into the temple is roughly T฿ 100 (GB£2.50)
---
KHAO SAN ROAD
famed from the film 'The Beach' Khao San Road has become "the centre of the backpacking world". Judging by the truth seeking travellers who stop over here to shop, exchange tales and prepare for their next stint on the backpacker trail, it is a phrase that sums it up pretty much perfectly.
Packed into a small 1/2 mile long strip are countless budget guesthouses and hotels, internet cafes, swanky bars and clubs, restaurants, massage parlours, travel agents, bookshops, market stalls, tattoo shops and much more. With its carefree, anything-goes vibe, it is quite unlike anywhere else in Bangkok, and so infectious is its atmosphere it's also popular with locals, especially young hipsters and art students.
---
BANGKOK NIGHT MARKETS
There are two major night markets in Bangkok that I managed to visit. Take the Sky Train to Sala Daeng station where you will discover Patpong Night Market. Patpong has become one of the 'must' night shopping destinations for avid shoppers. Found in the built up area known as Silom, the place is always busy and chaotic with all the commotion from the Go-Go bars nearby and lots of foreign tourists. This market in Bangkok's notorious nightlife district is often the first and easiest stop for many tourists just arriving to Bangkok.
​
The second night market worthy of a visit is Pratunam Market. This is a major market selling clothes, shoes, and fashion accessories at wholesale prices. Navigate the small alleys and jam packed small streets and you will find yourself in the middle of a clothes maze. Located at the junction of Ratchaprop and Petchburi roads (next to Amari Watergate Hotel). Pratunam Market targets lower- to lower-middle income custom and as with other outdoor markets in Bangkok, price reflects quality. Shops offer wholesale prices when you buy three pieces or more, although buying single pieces will not cost you that much more. On top of that, bartering is acceptable though you barely need to – items are already very cheap.
---
FLOATING MARKET OF DAMNOEN SADUAK
The floating market of Damnoen Saduak is were you will discover boats piled high with tropical fruit and vegetables, fresh, ready-to-drink coconut juice and local food cooked from floating kitchens located right on the boat. When you arrive at the market you cannot help compelled to get 'stuck-in'. Enjoyed it for what it is: an aquatic cultural show festooned with colour and souvenirs. The variety of goods – everything from rattan ball's, traditional puppet's and fresh fruits to embroidered handbags, noodle soup and wide brimmed bamboo hats.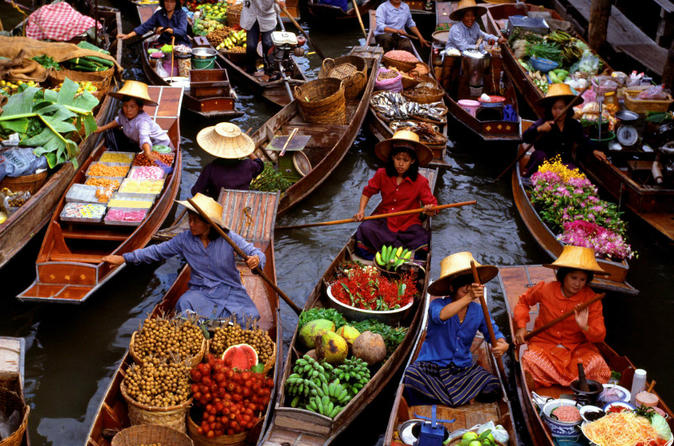 ---
MBK SHOPPING CENTRE
I was fortunate enough to be staying in a hotel opposite this mall. Before I booked my visit to Bangkok this was not my intention to stay near this venue but I was pleased I had. MBK Center is probably Bangkok's most legendary shopping mall, popular with both tourists and locals, and busy with shoppers every day.
There are eight floors packed with shops that sell everything from clothing, fashion accessories, handbags, leather products and luggage to furniture, mobile phones, electric appliances, cameras, stationery and DVDs. It is not as up-market or stylish as neighbouring Siam Discovery, Siam Centre and the glitzy Siam Paragon, but it offers a mind numbing range of goods that are considerably less expensive.
MBK Center is particularly easy to reach thanks to a direct walkway linking to National Stadium BTS Skytrain Station. Literally every taxi driver knows this most famous of shopping malls in Bangkok too, so you can hail a cab from anywhere but traffic can be intense.